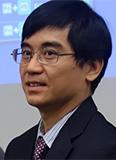 Prof. WONG Hei (LINK)
Department of Electrical Engineering, City University of Hong Kong
Research Experience:
Hei Wong received his Ph.D. in electrical and electronic engineering from the University of Hong Kong. Dr. Wong joined the faculty of the Department of Electronic Engineering at City University of Hong Kong in 1989 and is now a professor of the Department. He was a visiting professor for the 21st Century Centre of Excellent (COE21) for Photonics-Nanodevice Integration Engineering, Tokyo Institute of Technology, Japan, and Zhejiang University, China.
Dr. Wong was the chair for the IEEE ED/SSC Hong Kong Joint Chapter during 2002-2003. He is a member of the international steering committees, technical program committees, and organizing committees for many international and local conferences. Dr. Wong has served as editor or guest editor for many journals including Microelectronics Reliability (Elsevier), IEEE Transactions on Electron Devices, IEEE Transactions on Nanotechnology. He served as Regional Editor for IEEE EDS Newsletter during 2003-2009. He has served as a Distinguished Lecturer for IEEE EDS since 2002.
Dr. Wong has worked on MOS device modeling and characterization, hot-electron effects, low-frequency noise, thin dielectric film physics, IC process modeling and characterization, MOS integrated circuit designs, solid-state sensors. He is author or co-author of four books and over 360 papers. In particular, he is a co-author for the book: Guide to State-of-the-Art Electron Devices which was jointly published by Wiley and IEEE for celebrating the 60th anniversary of the IRE electron devices committee and the 35th anniversary of the IEEE Electron Devices Society. He has presented many invited talks and keynote speeches at numerous international conferences.
Speech Title:
Device, System, and Application Prospectives of More Moore and More than Moore
Abstract:
It is anticipated that the CMOS devices will continue to shrink, in accordance to the Moore's Law, for some more generations by some further technology and device structure innovations in the ultimate scale though there should have lots of challenges ahead in every aspect of device structure, material engineering, as well as fabrication technology. A number of "More-than-Moore" strategies have been worked out, without relying on device scaling, to boost the performance of digital intelligence systems. This talk highlights some of these issues with some personal remarks and prospective on the technology development in coming decades, in particular with 5G mobile technology to be introduced.